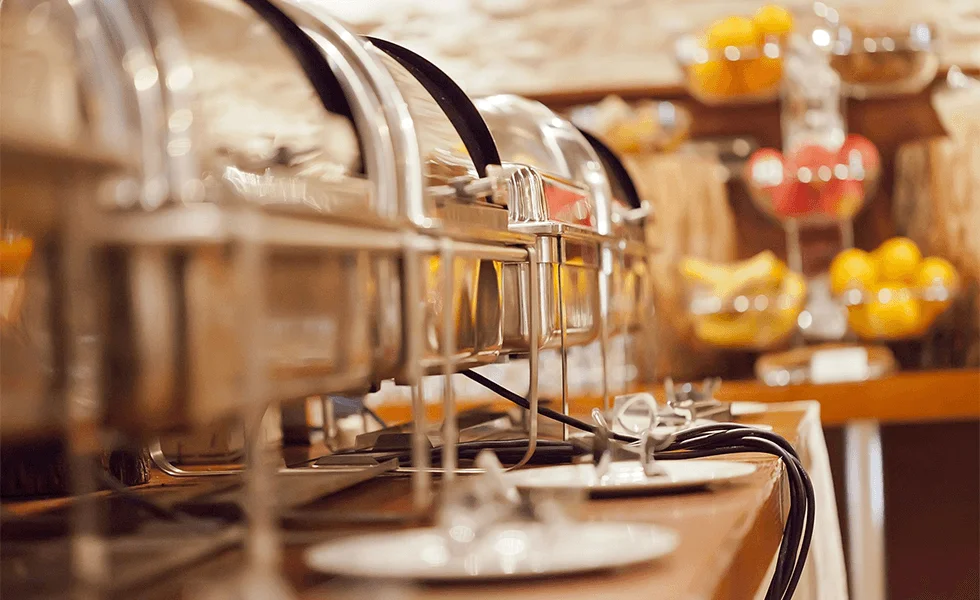 Types of Catering Offered by Tikkas and Tikkas
Organizing an event may prove to be a challenging task for many. Selecting the right cuisines as well as preparing the perfect tables and decor can be quite taxing. The key aspect of any event's planning is choosing the right catering service. But how are you going to do that when you're not even aware of the types of services available? It is extremely important that you take the time to explore the available options and go with what is most suitable for your event.

Some basic yet significant questions that can help you choose the best for your event are:
What is the nature of the event?
What is the expected number of guests?
Is the gathering formal or informal?
What is the budget?
This article will familiarize you with the various types of catering services we provide and assist you in selecting the right one for you. Not only will it save your time, but it will also save you money since we are the most
affordable catering
service around. Keep reading!
Corporate Catering Services
First things first, corporate events are the backbone of the business world. They can range from large-scale events like launch parties to small-scale business lunch and dinner gatherings. Regardless of the size, a corporate event is important as it helps grow businesses, makes or breaks deals, connects with other companies, builds strong ties among colleagues, and aids in networking.

Hence, it's essential to create an environment where guests can relax and feel comfortable. As it can contribute to the event's success by encouraging positive interactions and creating an impact on the guests. Even when the most sophisticated and formal people are coming to a business event, they look forward to having an amazing experience in terms of entertainment and food.

Taking all these facts into consideration, you must be wondering, How can I ever find such a top-notch service that can manage it all without any difficulty? Why is it even a question when we are here to help you out? From conferences to BBQ lunches, we do it all, and we do it perfectly! We are experienced corporate event caterers and do everything according to your demands.
Wedding Catering Services
Next on the list is wedding event catering. It's not a casual party; rather, it's one of the most important days of a person's life. Nobody can afford to mess up their reception, right? You tie the knot with your other half in the presence of all the family members and friends. Everything has to be festive, grand, and elegant.

Catering a wedding ceremony involves much more than simply serving food to the guests. The coordination between musicians, photographers, and servers is significant for a seamless flow of events. It's up to the hosts to decide if they want table service or buffet service for their party. In any case, satisfying the guests and having a wonderful event without any problems is their top priority.

Being experts in what we do, catering wedding events is one of our most cherished qualities. We take care of the food, arrangements, themes, and decor of the event, as well as your budget limitations. We're reputable and renowned wedding caterers in Houston for our exquisite Tex-Mex and Indo-Pak cuisines and professional service.
Social Event Catering Services
Social events cover any type of small or large social gathering, like birthday bashes, anniversaries, retirement celebrations, housewarming parties, bridal showers, and gender reveal parties. These are the gatherings where you find entertainment, drama, and vibrancy. Themed parties are the most popular trend in social gatherings since they serve as a great source of amusement.

The hosts put all their energy and efforts into throwing a killer party. They will, of course, want to turn to a top-tier catering service to avoid any screw ups. This is where we can lend a hand. We help you plan a successful party while staying within your budget. Everyone will remember your parties for being full of delicious food, aesthetic decor, and amazing experiences.
Buffet Catering Services
Buffet catering can be counted as a subtype of catering as it may be chosen for corporate, social, or wedding events. All the dishes are arranged on a food station or table so that guests may select what they want to eat and serve themselves. It is a great approach if you want your guests to know each other and be friendly. Conversations over food are the most interesting and entertaining.

It provides a wide range of culinary options, allowing the attendees to try different dishes. It also helps them pick what they personally prefer according to certain diet plans or allergies. Furthermore, this sort of catering eliminates the necessity for traditional sit-down service, which may seem awkward and formal. Buffet catering offers a more relaxed and casual environment in which guests can enjoy their food to the fullest.
Read More: Top 5 Reasons To Order Catering From Tikkas and Takkos
The Takeaway
We also offer food truck catering, boxed lunch catering, and drop-off catering—the list is long. The point is that our full-service catering serves all sorts of events, and it's totally up to you what type you choose. You want your guests to be satisfied with your hospitality, and we will make that happen. Contact us and get started!